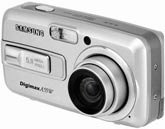 Image Sensor
Type
1/2.5″CCD
Effective Pixels
Approx. 5.0 Mega-pixel
Total Pixels
Approx. 5.1 Mega-pixel
Lens
Focal Length
SHD lens f=4.6~22.2mm (35mm equivalent : 28~135mm)
F No.
F3.3~F4.8
Digital Zoom
Still Image mode : 1.0X ~ 5.0X Play mode : 1.0X ~ 8.0X (depends on image size)
Viewfinder
LCD Monitor
2.5" color TFT LCD
Focusing
Type
TTL auto focus
Range
Program mode - Normal: 60cm ~ infinity - Macro: 2cm~60cm(Wide), 19cm~60cm(Tele) Auto mode - Auto Macro: 5cm ~ infinity (Wide), 19 ~ infinity (Tele) (need to evaluate time for AF, TBD)
Shutter
Type
Mechanical and Electronic shutter
Speed
2 ~ 1/1,000 sec. (Normal), Night Scene: 8sec – 1/1000sec
Exposure
Control
Programmed AE Metering: Multi, Spot
Compensation
±2EV (0.5EV steps)
ISO Equivalent
Auto, 100, 200, 400
Flash
Modes
Auto, Auto &; Red-eye reduction, Fill-in flash, Slow sync, Flash off
Range
0.25~3.0m(Wide), 0.5~2.0m (Tele)
Recharging Time
Approximate 5.0sec
Sharpness
Soft, Normal, Vivid
Effect
Normal, B&;W, Sepia, Blue, Red, Green, Nega, RGB, Highlight, Composite, Frame
Voice Memo
Voice Recording (Maximum 1 hour) Voice Memo in Still Image (Max. 10 sec.)
Date Imprinting
Date&;Time, Date, Off (user selectable)
Still image
Modes: Auto, Program, Scene, Voice Recording *Scene: (Portrait, Children, Landscape, Close-up, Dawn, Sunset, Backlight, Fireworks, Beach/Snow, Night) Continuous: Single, Continuous, AEB Self-timer: 2 sec., 10 sec., Double self timer (10sec. &; 2sec.)
White Balance
Auto, Daylight, Cloudy, Fluorescent_H, Fluorescent_L, Tungsten, Custom
Movie Clip
With audio (recording time : memory capacity dependent) Size: 640x480, 320x240, 160x128
Frame rate : 30fps, 15fps(User Selectable) Pause Function in Movie Clip, Moment Capture Function Time Trimming Function Stabilizer Function
Storage
Media
Internal : 25MB External Memory Slot: SD card /MMC (Up to 1 GB guaranteed)
File Format
Still Image : JPEG (DCF), EXIF 2.2, DPOF 1.1, PictBridge 1.0 Movie Clip : AVI (MPEG4) Audio : WAV
Image Size
5M: 2592x1944 pixels, 4M: 2272x1704 pixels, 3M : 2048x1536 pixels, 2M: 1600x1200 pixels, 1M: 1024x768 pixels, VGA : 640x480 pixels
Capacity
(16/32MB)
5M: Superfine 9, Fine 18, Normal 26 4M: Superfine 11, Fine 23, Normal 34 3M: Superfine 14, Fine 28, Normal 41 2M: Superfine 23, Fine 44, Normal 64 1M: Superfine 53, Fine 96, Normal 132 VGB : Superfine 117, Fine 189, Normal 238 (TBD All after FW Finalize) * These figures are measured under Samsung's standard conditions and may vary depending on shooting conditions and camera settings.
Image Play
Single image, Thumbnails, Slide show, Movie Clip, Album mode
Interface
Digital output connector : USB 2.0 Audio: Mono Video out: PAL/NTSC User selectable
Power Source
Primary Batteries: 2 x AA alkaline, or CR-V3(Lithium) battery Secondary Batteries: 2 x Ni-MH, Samsung SBP-1303(Lithium Ion) * Included battery may vary depending on sales region.
Dimensions (WxHxD)
106.3x56.5x26.7 mm
Weight
150 g (without batteries and card)
Software
Camera Driver
Storage Driver (Windows 98/98SE)
Application
Arcsoft PhotoImpression, Digimax Viewer,
For Windows
PC with processor better than MMX Pentium 233MHz (XP : Pentium II 300MHz) Windows 98/98SE/2000/ME/XP 200MB of available hard-disk space (Over 1GB recommend) Minimum 64MB RAM (Over 128MB recommended) USB port CD-ROM drive 1024×768 pixels, 16-bit color display compatible monitor (24-bit color display recommended) DirectX 8.1 or later
For Machintosh
Power Mac G3 or later Mac OS 9.2 ~ 10.3 Minimum 64MB RAM 110MB of available hard-disk space USB port CD-ROM drive QuickTime player or a media player that supports AVI file format.
Review source: samsungcamera.com